Click to enlarge
Beamforming
Adaptive beamforming is the standard for any radar system that requires precision tracking and/or guidance in a spectrum contested environment. With Versal adaptive SoCs, radar designers no longer have to choose between performance and SWAP-C. The Versal adaptive SoC's adaptive beamforming solutions are data type agnostic, allowing designers to use any DSP data type (fixed, float, double) accelerated by AI Engines and DSP Engines. Versal Premium adaptive SoCs offer complete solution that requires fixed point complex multiply accumulate and adds in fixed precision and matrix inversion using floating point. With 112G PAM4 transceivers and power-optimized ASIC-like cores, Versal Premium adaptive SoCs enable secure networking to backend processing while supporting Ethernet, PCIe®, Interlaken, SRIO, or any custom interfaces.
Versal Premium adaptive SoC
Click to enlarge
Phased Array EW / Radar
As a single-chip TRX solution for scalable, multi-function, phased array radar, the Zynq UltraScale+ RFSoC enables low latency transmit and receive for optimal response time in early warning scenarios.
Full L-Band Sampling
Partial S-Band Direct Sampling, Full S-Band at 2nd Nyquist
Partial C-Band Direct Sampling
Software and Hardware Reconfigurable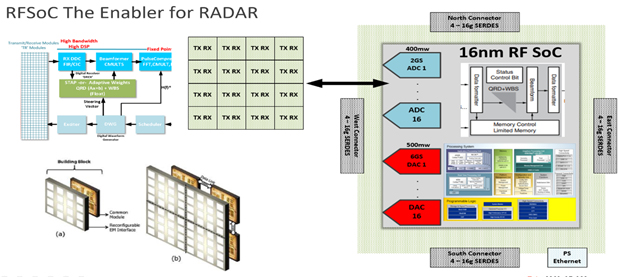 Click to enlarge
Radar on a Chip
The Zynq RFSoC monolithically integrated 2.5GSPS ADCs (16) and 9.851GSPS DACs (16) have disrupted the digital radar array world! Designed for coherency, the Zynq RFSoC scales to any radar size—from 2 elements to 1000s of elements. The self-contained design is complete with 4200+ DSP, 16 x 32g GTs, ADCs, DACs, Quad A53s, and internal RAM. Just add antennas, power, clocks, and custom radar code. Imagine building such a system with discrete components. Not only would it need racks of VPX cards and high-power high-latency JESD204b data converters, but also a rigorous and costly ADC/DAC layout design.

Zynq UltraScale+ RFSoC